Amber Sabri
Amber Sabri is a Rutgers University graduate and PR professional.…
Since its first addition to the dictionary, the word "nude" referred to "having the color of a white person's skin," essentially making the word synonymous with a white skin tone. As time passed, Merrian Webster made some edits to that definition to relate the word "nude" to mean, "to match the color of the wearer's skin tone." Unfortunately, the fashion world is slower to adapt to these definition changes.
In the past seven or so years, nude fashion has been a constant trend in the fashion industry – just look at Kim Kardashian. We see nude fashion on the runway, on the streets, everywhere we look, but the nude styles we're seeing in fashion are not representative of the people wearing the designs. A majority of nude fashion seen on the runway and in stores has been of a peach or beige shade – nothing for the darker skin tone. Buying nude undergarments or nude shoes has always meant a light beige color; it has never matched every skin tone, therefore negating its very definition.
It hasn't been until the last couple of years that inclusivity in all of its different ways has really gained the traction in fashion that it really needed. Sizes are becoming more inclusive, Tommy Hilfiger created a line of clothing for those with disabilities to help them get dressed on their own, and now we're seeing more designers begin to take their shades down the more inclusive route and we're even seeing designers start their brand's surrounding the idea of color inclusivity.
Christian Louboutin was the first to really break the media with his shade inclusive shoe line, and as time rolled on, more brands like Jeneba Barrie, Rebecca Allen, Brother Vellies, Dune London, Salone Monet and Kahmune developed shoe lines catered for all the shades in between.
For an inside scoop on the "new nude" and where shade inclusivity is going in the fashion industry, we were given the chance to talk to Jamela A Acheampong – founder and brand director at Kahmune. After seeing a celebrity wearing a monochromatic nude outfit, and wanting to recreate the look, Acheampong found herself surrounded by beige shades that didn't fit her skin tone. To fix the problem, she took a white heel and paint and created her perfect shade of nude. She spoke on her experience as a designer developing a shade inclusive line, her take on the nude shoe industry, and where the path to inclusion will be in the future.
First, and foremost, to get a better sense of the brand – where did the name Kahmune come from? Where did the inspiration start?
JAA: Kahmune was inspired by the word commune. "Growing up I always felt like it had a negative connotation but the word is rooted in community and connection. My goal is to create a brand that attracts consumers that believe in the importance of lifting each other up and making sure everyone is represented which is why I chose the name. I was inspired after browsing social media one night and coming across an image of a well- known celeb in a full nude outfit. It inspired me Tor recreate the look but after searching online for nearly 4 hours I realized that 'nude' and associated products are geared towards women of my complexion. I wanted to change that.
What was your biggest fear when going out and starting your line?
JAA: Gosh, I think I was pretty fearless in the beginning! Everything seems so much easier before you have to start doing it. I do remember being really worried about what people would think- that people would think my mission was pointless and unnecessary.
When starting Kahmune, what was the one thing you knew you wanted to prioritize when starting? Like a certain type of shoe you were never able to find in your shade, or a message you wanted to express, or even a feeling that you wanted your consumer to experience?
JAA: In terms of style, I knew I wanted to start with something a lot of women would like and wear, a staple, which is why I launched our Becky Pump. A nude pump I a classic and a must-have in every wardrobe. I had NEVER seen one in my nude. I was lucky if I saw a brown that was close. In terms of message, it was important to me that every single woman that came across my brand felt like she could find her shade.
Similarly, how do you want the people who wear your shoes to feel?
JAA: Confidence, self- love, pride, joy, inspiration- like things they think can't be changed can indeed be changed! I want people to feel good when they wear my shoes. There's just something about sporting a product that you know was designed with you in mind.
Where do you see the future of the nude shoe going in the next 10 years? Do you think it'll become the new normal or still a fight for darker skin tones?
JAA: It better be the new normal! Lol. The world is changing too quickly for it not to be. I strongly believe the notion that nude = beige will be dead by then. If I have any say in it I'll have reached as many people as possible by then so people will at least be aware that a nude shoe should match the wearer's skin tone or even own one of our products themselves!
I know the origin story of Kahmune with the white pump painted to your skin tone – do you still have them? Do you still wear them?
JAA: Yes, I do think I still have them somewhere. And I still have my first ever sample that I made. I don't wear them because the product we have now is so much better!
What was your initial feeling when you finally had the nude shoe that matched your skin tone?
JAA: I couldn't stop smiling! I still remember putting on those shoes after I had finished painting them. It was like an 'aha' moment because I was like, ok, I get all the appeal of having a nude shoe now. I felt really proud because I was thinking finally, a nude product designed for my skin tone and me.
Do you have any future plans to expand the shoe collection to more than just heels and flats?
JAA: Definitely! If all goes to plan we will be introducing a new style for F/W 2020. We also carry tote bags and I would love to continue to expand our handbag line.
See Also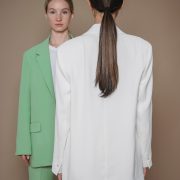 When creating your collection of shades, did you have ever feel pressure to ensure you were being as inclusive as possible? Did you feel a sense of responsibility for those unheard voices that weren't represented in the shoe space?
JAA: Yes, but it was a self-imposed pressure. I felt like if I'm going to do this I have to do it right. I have to make sure every single woman after a true nude shoe has an option when she comes to Kahmune. I was happy to take on the responsibility of speaking up for all the unheard shades- our fair ladies, are melanin supreme (R) ladies and our mid-tone ladies.
On a similar note with the shades, what was the process like in terms of creating those shades, naming them, making sure they represented all these different skin tones?
JAA: I started with our lightest shade and our darkest shade and then filled in from there. It was a lot of work; a lot of working with skin tones, dissecting undertones, and finding leathers that would work for a range of complexions. The shade names are all inspired by the women from the regions whose skin tones have inspired them. Juba for the women from South Sudan who have a beautiful dark complexion and Goa as a nod to the diversity of India, etc.
We know each shoe is named after women who inspired you through the journey, but how did they influence the brand? Where do you draw your inspiration from in creating the shoes?
JAA: Yes, the shoe styles are named after women in my life. All of our current styles are named after family members. My sister is notorious for a mule, which is why it was named Tasha. Our styles to date have been very classic, but starting in 2021 we will be introducing more "fashionable" designs that I will be creating.
Do you have any future plans to expand the shade range? What do you think is missing from your collections that you'd like to bring attention to in your next collection?
JAA: At the moment 10 is serving us really well! We have a 100% shade match rate to date. Next few collections I definitely want to focus more on design and creating stylized shoes that customers get really excited about.
For me, I've been eyeing the Becky Pump ever since I discovered your brand – what is your favorite shoe design so far?
JAA: I love the slingback that we did for a limited collection. It's perfect to get me through long days of events and there's just that bit of added sex appeal with the ankle strap. I also love the Tasha mule I have been living in that all summer.
Amber Sabri
Amber Sabri is a Rutgers University graduate and PR professional. Her interests revolve around fashion and beauty.