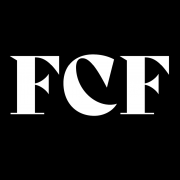 Instagram, Snapchat, and TikTok have been the bread and butter of the beauty industry. We all know that video is amongst the most engaging – and best performing – social media posts. It creates an intimate experience for the audience and presents the brand in a more personal way.
Enter live streaming. It takes video marketing to the next level by creating a one-on-one experience that makes us feel like we're chatting to a friend. There's something special about seeing a video in real-time. You feel like part of a club, taking online communities beyond being just a follower count. It's a two-way dialogue between influencers and brands and their target demographics. Livestream shopping has revolutionized the retail industry these past five years, and it is finally getting to the U.S.
The beauty industry is no stranger to leveraging the power of online communities and influencers. Livestreaming is becoming an integral strategy for the beauty brands in 2022 as they battle to win over Gen Z. We're exploring how live streaming is shaking up the beauty industry with apps like Supergreat and influencer programs like Amazon live.
Supergreat and its celebrity backers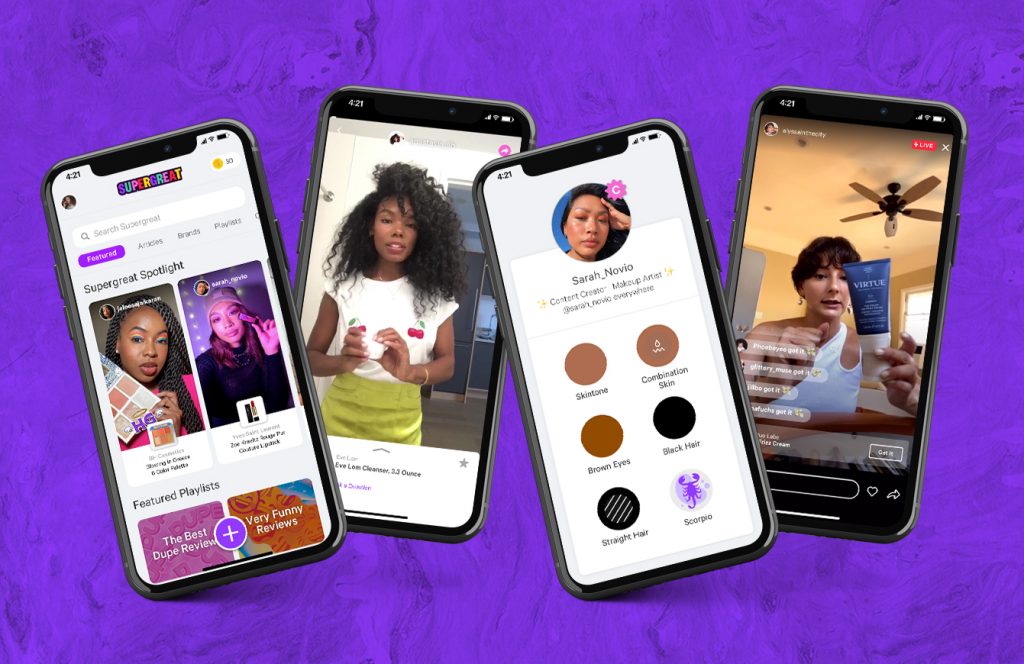 It was only a matter of time until a dedicated platform for beauty fans was going to be launched. Supergreat is a video-sharing platform that gives you the best of all worlds. While live-streaming is at the heart of Supergreat, it also offers shoppable links and articles.
Brands like Anastasia Beverly Hills, Florence by Mills, and Benefit Cosmetics are amongst the most popular on the platform with hundreds of videos spotlighting their products. Supergreat is unique as it allows users to explore a brand through the eyes of fellow beauty fans to get first-hand reviews, recommendations, and tutorials.
Scheduled live streams – or live shows as Supergreat calls them – create a sense of community between beauty fans and their followers. Don't be surprised if you see beauty brands jumping on these live streams in 2022 to create sponsored content.
The best part is that you can collect coins for attending live events or creating content on the app. You can then use them to redeem free beauty products from your favorite brands.
Supergreat has a wealth of celebrity backers that include Karlie Kloss, Hailey Bieber, Ashley Graham, and Kate Hudson. The platform's mission is to offer a new take on the beauty industry by putting live-streaming front and center.
See Also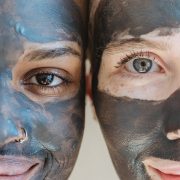 Livestreaming as a unique shopping experience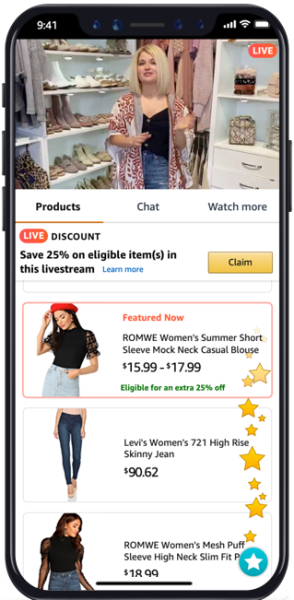 How often do you get a push notification telling you that someone you follow on Instagram is going live? Every time we jump onto Instagram, we're seeing brands, influencers, and celebrities going live. Even e-commerce marketplaces are jumping on the live streaming bandwagon, including Amazon.
Amazon Live is a platform that offers shoppable live streams within Amazon's marketplace. It takes the telemarketing of QVC and brings it online with the added convivence of shoppable links that puts you only a few clicks away from ordering the product. It is basically the Gen Z version of TV shopping channels.
Amazon has been working with celebrities like Miranda Kerr and Porsha Williams on their live streaming platform that promotes daily deals for product categories from beauty to fashion and lifestyle. Even TikTok has offered its own approach to in-app shopping through a partnership with Shopify.
Livestreaming is going to be at the heart of marketing strategies for the beauty industry. This form of media is a win-win for brands and consumers alike. It grows a community, creates a personal experience, and offers brands an interactive way to sell their products through shoppable links. In 2022, it's all about going live.