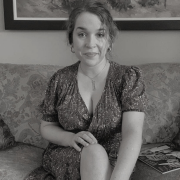 Julia Dolinish
Julia Dolinish is the owner of her own business, Julia…
With the Sex & the City reboot right around the corner, it has got all of the internet talking. What will the women be wearing? Will we get more iconic looks like the original?
The online fashion sphere exploded when paparazzi caught a shot of Sarah Jessica Parker filming for the reboot in what looked like a Forever 21 dress. "Carrie Bradshaw in a forever 21 dress seems illegal, " a fan on Twitter wrote. She would never! Fan account Every Outfit on SATC posted it may also be "Shopraga's 'Avah' dress, which originally retailed for $140 and was sold at Anthropologie in a different colorway". No matter what the dress is, the drama highlights just how important fashion was and is to the world of Sex & the City.
carrie bradshaw in a forever 21 dress seems illegal

— alixx ! (@alixxapplebot) July 30, 2021
Since the original stylist Patricia Field passed on the reboot, we can't fully count on how well the reboot will stick with the girls' true styles. So it's time for our daydreaming to commence with one question at the heart of it all – What brands would the Sex & the City squad be obsessed with today?
Carrie Bradshaw was the fashion queen of the series. Quirky, feminine, and eccentric she was not afraid to push some boundaries with her looks. Remember the naked dress? The tutu? A true icon. She could show a bit of a boho edge and set off so many trends we still are seeing on the runway.
Carrie was a master at high-low dressing. Her day "looking for a $7 dress to go with my $300 shoes" fits right in with the surge of thrifting and vintage that is so huge today.
So let's start off with the shoes. If there was anything Carrie loved more in the world than falling back to Mr. Big it was her Manolo Blahniks. Today, Carrie would be all over the Milan brand Midnight 00. This brand has pointed-toe pumps on lock! Most shoes feature a feminine ruffle or satin finish that is oh-so Ms. Bradshaw. "This year a pair of [Midnight 00] lavender ruffled mules with a kitten heel even found its way into the Costume Institute's "Camp" exhibition at New York's Metropolitan Museum of Art," a 2019 Footwear News article writes. Some of Carrie's more questionable outfits were definitely camp so she would definitely be down for a bit of flare on her shoes.
Other brands Carrie Bradshaw would love nowadays is Maisie Wilen, and Zimmermann. Maisie Wilen brings those bold colors and patterns that Carrie loved. The Fall 21 Ready to Wear Collection shows crushed velvet pastel wrap crop tops and lava print pants perfect for a casual Carrie off-duty look roaming around NYC. Zimmerman on the other hand plays into Carrie's more feminine side: full of light wispy fabrics, florals, and girlish ruffles that echo the dress she wore when she and Big fell into the water at the Central Park Boathouse restaurant.
All in all, I believe Carrie Bradshaw would love to hop on current fashion trends like pattern mixing and the 70s revival along with setting her own trends on her Instagram full of OOTDs.
Iconic Looks from the series:

The naked dress from Season 1 Episode 6 – "Secret Sex"
The tutu look from the opening credits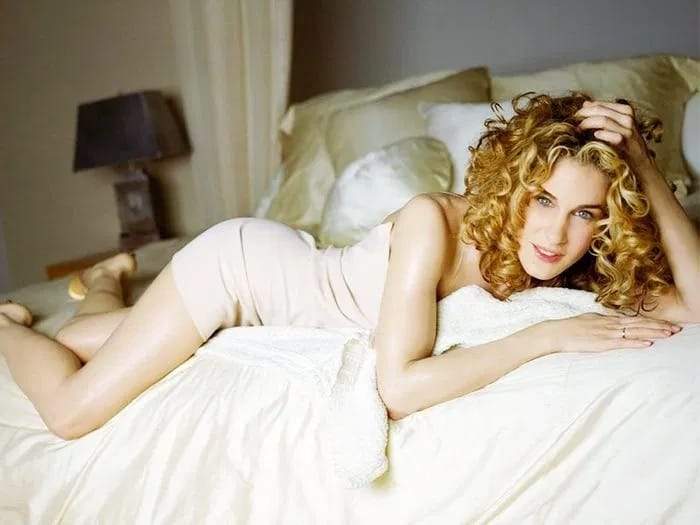 How else can you describe Samantha Jones's style but sexy and powerful? She was always daring with her clothes, leaning into her confidence as a career woman and a sexual being. Whether it was a slinky dress or a bold power suit, Samantha always slayed.
With the slinky satin slip dresses and lingerie as daywear trends, Samantha Jones would have loved going out in our "modern" looks. She was also not afraid of some shoulder pads and would be all over the oversized blazers of today. Right off his Spring 21 Ready to Wear, Kenneth Ize's plum blazer dress with wide lapels and nothing underneath is so Samantha it almost looks like she designed it herself.
Other brands Samantha would love nowadays are Ahluwalia and Gauge 81. With Ahluwalia, Samantha would find her menswear-inspired looks that are doused in fun bold colors. She would have been first on Ahluwalia's foray into women's pieces that have a sexy and confident air about them. Now when she was out on the prowl, Samantha would be all for Gauge 81. Their collections have been piled high with body-hugging mini dresses, and sleek contemporary pieces for Samantha to seduce NYC in.
As one of the first female characters we saw on the screen that advocated for women to embody their sexual desires, Samantha would be all for the new age of liberation and women wearing what they want – as long as they feel hot!
Iconic Looks from the series:

The gingham matching set from Season 3 Episode 15 – "Hot Child in the City"
The hot pink power suit from Season 4 Episode 7 – "Time and Punishment"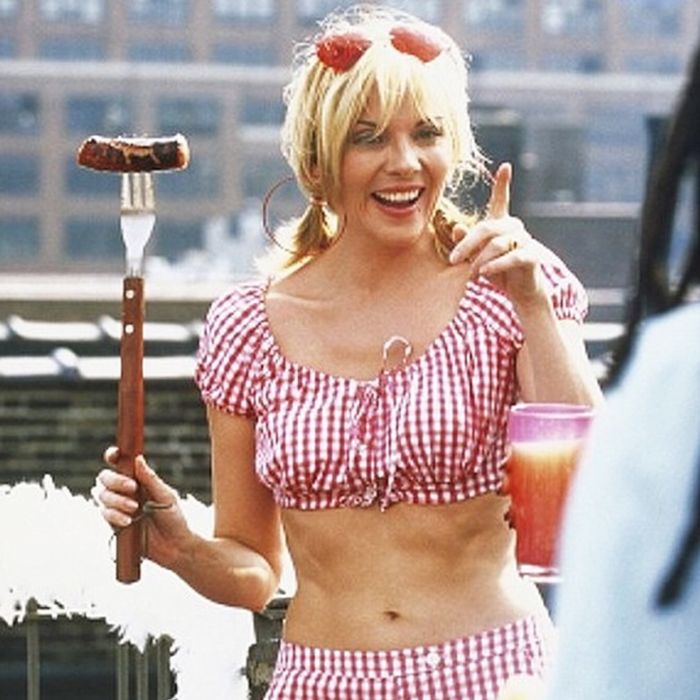 If there was one person to look to for how Charlotte would dress today, look no further than Kate Middleton, Duchess of Cambridge. A preppy-chic, old money aesthetic her outfits often featured clean lines and ladylike touch.
See Also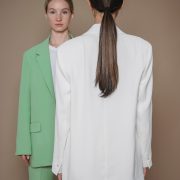 We may have missed it back in the early '00s but Charlotte was on the athleisure trend before it was a trend because of her love of running. Today her entire workout closet would most likely be Lululemon. She would both love the freedom of leggings as pants but the traditionalist in her would hate that athleisure had infiltrated evening wear in the past decade.
Other brands Charlotte York would love today are Thebe Magugu and Emelia Wickstead. Thebe Magugu brings clean lines with an elegant touch to his pieces. His womenswear often takes traditional feminine silhouettes and adds a bit of an edge. Emilia Wickstead brings class in all of her designs. Nods to vintage styles are everywhere, which Charlotte would be all for. Her pieces look expensive and classic which is very much Charlotte York's style essence.
Iconic Looks from the series:

The white tennis dress from Season 3 Episode 17 – "What Goes Around Comes Around"
The Burberry trench coat from Season 2 Episode 5 – "They Shoot Single People Don't They"
Back during the original airing, Miranda was not known for her style. She was portrayed as a practical lawyer and was often seen in business clothes. Looking back on her outfits, a hip effortless vibe comes through. If any one of the women would be wearing streetwear today, it would be Miranda. Just look at her overalls and puffer jacket look from the start of season 2. She would have been into Telfar bags before half of the internet had even heard of them.
When not in casual wear she is often in more tailored, masculine pieces that work perfectly with her fun short pixie cut. Unlike Samantha, Miranda's boss babe style is more muted in its colored palette but shows more layering and traditional elements. These came out even when she was not actively running to work. Her maroon velvet wedding suit with gold slingback heels says it all, Miranda had style.
Other brands Miranda would love nowadays are Jacquemus and Peter Do. Jacquemus is one of the internet's fashion husbands and his muted tones and air of simplicity speak to Miranda's tastes. She would be able to dress her more feminine side without going as big or garish as the other girls, and she would also love the more tailored menswear-inspired look the brand offers. Peter Do would be Miranda's go-to when she wanted to feel powerful, for whatever occasion. Often more minimalist with his designs, Do is a renowned tailor. Miranda would appreciate the confidence that comes from wearing a well-tailored outfit.
Iconic Looks from the series:

The burgundy wedding suit from Season 6 Episode 14 – "The Ick Factor"
The overalls from Season 2 Episode 1 – "Take Me Out to the Ball Game"
Overall, Sex & the City was an iconic moment for fashion and television. No matter the age or the era, these four women are forever fashion icons. Today, they would still be at the front of fashion shows and learning all the new trends. Embody your inner Carrie, Samantha, Charlotte, or Miranda by being a fashion lover and wearing what you want!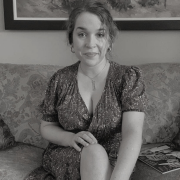 Julia Dolinish
Julia Dolinish is the owner of her own business, Julia Anne Virtual Assistance, and specializes in social media content, and copywriting. Her interests include fashion, beauty, and lifestyles of twenty-somethings.