Fashion shows have become concerts in the fashion world.
Dating all the way back to the 1860s, Charles Frederick Worth hosted the first real fashion show by using human models instead of mannequins to present his work to a Parisian audience. These "fashion parades" then exploded in London and New York at the beginning of the 20th century, although with slightly different rules, photography was banned, and they were more like intimate events with buyers rather than spectacles for the whole world to see. By the 1980s, fashion shows started to become more like the productions we see today, lightning and sound effects being the core of these shows. 
Fashion shows bring in a lot of publicity for a brand (therefore more customers) as the shows become documented by influencers and journalists who share them with their audience which helps to establish trends. Fashion shows can be beneficial and are still very much favored by people. Even during the pandemic, Jacquemus still chose to host his S/S 2021 show with an audience (who socially distanced) because many would agree that seeing the clothes move on a model in person is just different from seeing it on a computer screen.
Moneywise, in America alone, each year people spend 250 billion dollars on fashion. On the other hand in the UK, it is not much different as each year fashion represents over 28 billion pounds for the UK's GDP.
In March of 2020, the whole cycle had to stop due to the spread of the virus. The pandemic was a shock and caused many luxury brands to cancel their cruise shows, which are considered a very crucial season for a brand as it brings in money and keeps interested in between other collections. Industry giants such as Gucci, Burberry, Ralph Lauren, Giorgio Armani, and Prada all pulled out. However, the lockdown helped to create an alternative to the traditional fashion show as Giorgio Armani hosted the first fashion show through a live-stream; it was hosted in an empty theatre with no one but models due to his concerns regarding the coronavirus. On the other hand, Chanel went completely digital for their Cruise 2021 show- no guests, not even a runway, just an advertisement-like video and photos which were shot with only a handful of models.
When massive brands make decisions like these that turn out fine, it makes people think about the necessity of the massive spectacles and rows upon rows of important people.
Do we really need fashion shows as they were previously? Are they really necessary?
By looking at the decisions made by many famous designers, we could say not really. If you really think about every aspect of fashion week: the sets, the clothes that sometimes are nothing but an Instagram moment, the long list of international guests and models who all need to fly, the goodie bags, and even the paper invites; it all produces masses of waste. According to a recent report, the flights of the guests produce 241,000 tons of CO2 emissions a year, which is enough to power a small country for a year. Why should we support and uphold something so toxic to the environment when an alternative exists? 
For example, Stockholm Fashion Week was canceled indefinitely last July in 2019 due to its unsustainable nature and to focus on finding an alternative. Why are the biggest fashion weeks not following suit? Does a location like New York or Paris not welcome more international guests and host more massive shows than Stockholm? Is the publicity worth damaging the environment? 
See Also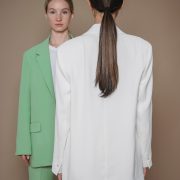 Yes, fashion week is undoubtedly very glamorous and brings in a lot of publicity and money. However, none of that is necessary. An online show like Giorgio Armani's done the job perfectly, and since we live in a world so advanced in technology, the least we could do is use it to its full potential. Moreover, the root cause of the unsustainability of fashion week is designers putting out way too many collections, many of which clearly shows burned-out creativity. To kill two birds with one stone, so to say, what if designers made fewer collections, and instead of fashion week being hosted in every major fashion capital of the world, one city could be chosen as the 'host' for each fashion month. This strategy would not only limit CO2 emissions and bring in a lot of revenue for a city that could perhaps benefit from it but also produce collections that are fresh and truly fashionable.