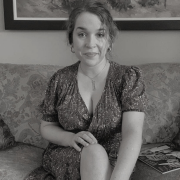 Julia Dolinish
Julia Dolinish is the owner of her own business, Julia…
Take a look at any influencer's Instagram page, most likely you will find them decked out in clothing and accessories covered in logos from huge luxury brands like Chanel, Louis Vuitton, or Supreme. Walk down one of the boardwalks lined with cheap beachwear and t-shirts, you'll find the Gucci stripes on almost every type of item in the store. Love it or hate it, logos are massive in the fashion market today – both legitimate and knock off. While the last era of logomania was the 90's, this rise of the current logo obsession is usually attributed to social media and influencer culture. Brands gain faster clout if their logo is quickly noticeable on the clothing influencers and celebrities are posting on their Instagrams.
Logos at their basic level are very simple, they are stylized words or images to represent the brand and make products recognizably of that brand. Some of the most recognizable brands of our time are the Nike swoosh, Apple's apple with a bite, and the McDonald's golden arches. In fashion, one of the most recognizable logos are the interlocking LV of Louis Vuitton that covers most of their iconic bags. Even those who don't know much about high fashion recognize that logo. Other famous fashion logos include the double C's of Chanel, the Fendi Fs, the medusa head of Versace, the double G's of Gucci, and the Dior print with the large Ds. One of the newer brands utilizing the power of the logo is Marine Serre, the French designer, who has outfitted the likes of Beyonce to Blackpink and is known for her crescent moon.
The last time logos were so prevalent in fashion trends was the 1990s. Think about the Tommy Hilfiger craze or the risque Calvin Klein ads. It was a way of joining a tribe, feeling a part of a group – especially a group that can afford luxury. The 1990s love of logos grew out of high fashion brands becoming inspired by streetwear from the boom of hip hop in the late 1980s. Just like today, aspects of streetwear and hip hop culture are taken by high fashion houses to add relevance. Now there are even a few collaborations a year between streetwear and high fashion, think the Fila x Fendi collaboration of Fall 2018. Supreme paired up with Louis Vuitton in 2017. Off White has paired up with Nike and Serena Williams. When the '90s trends came back through the fashion cycle in the past five years, brands took note it was time for another round of logomania.
Logo covered clothing is a display of status, often seen by the naysayers as gaudy and tacky. It is a display of maximalism that often comes with good economic health in the country. This was seen in the maximalism of the 1980s and the brand obsessed 1990s. That shifted to more subtle brand displays and the minimal looks of the 2000s, especially with the economic crash in 2008. This brought the rise of minimalism in all aspects, from interior design to fashion. Minimalism started to slip away from the mainstream a few years ago, around 2016, and the lust for maximalism came back full force.
See Also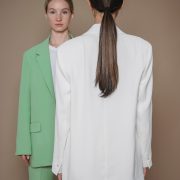 The culture of influencers and social media can be thanked in part for the rise of our current logomania trend. With everyone and their mother having social media, it's almost like everyone has become their own "brand". On the individual side, owning accessories or clothing with obvious logos lets one show it off and have a sense of wealth or opulence on social media. This desire has led to a large market for knockoff or fake designer dupes. On the brand's side, social media has become de facto free advertising. Having an influencer or celebrity post a picture with a Fendi scarf, or Louis Vuitton bag that is noticeable to their followers, it gives a more authentic vibe to the advertisement then if that celebrity was in a traditional print or media ad. Nowadays, celebrities' social media is where many turn for their own style inspiration, so if it is decked out in logos – that's what the general public will want to emulate.
Our current logomania trend is thriving, but as the coronavirus pandemic rocks the fashion world along with the rest of the world, will loud and obvious branded clothes and accessories make it out the other side? Or will they end up feeling just as out of touch as the celebrities singing Imagine back in March? Either way, you'll find me donning my double C Chanel earrings and Telfar bag even to just take photos on my back patio. Are you still asking "logo, please" when you're shopping, or has the mess of 2020 been the cure you needed for logomania?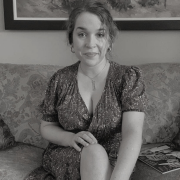 Julia Dolinish
Julia Dolinish is the owner of her own business, Julia Anne Virtual Assistance, and specializes in social media content, and copywriting. Her interests include fashion, beauty, and lifestyles of twenty-somethings.